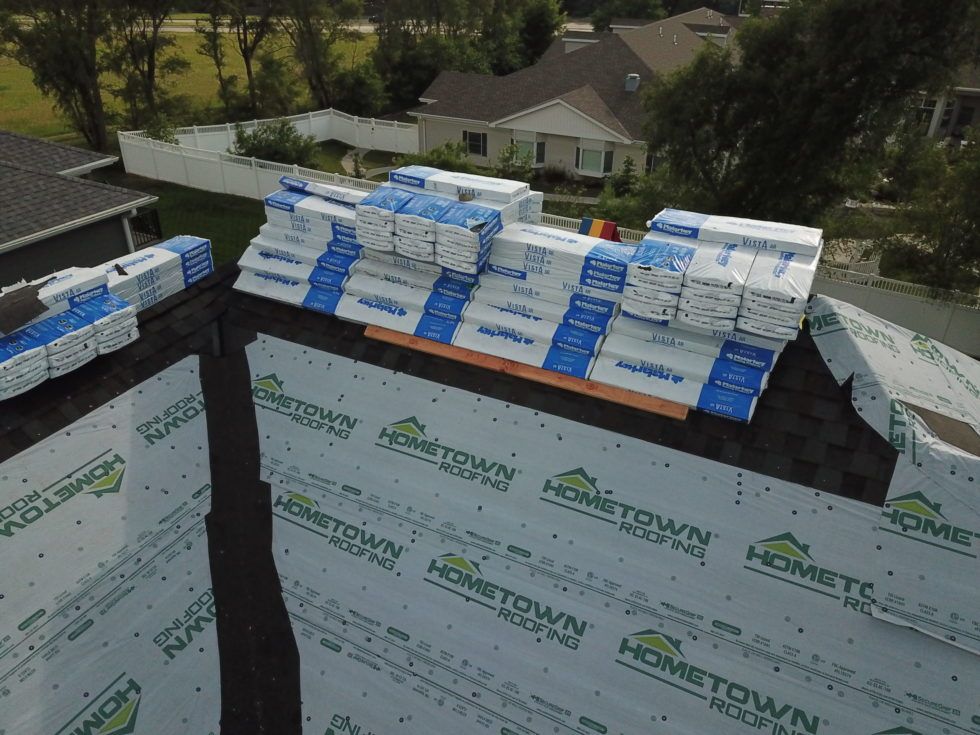 New Roof Installation
You likely already know that installing a new roof on your home is a big project with many different moving parts. Whether you are having your roof replaced due to normal wear and tear, damage from pests, or failure due to cold temps or ice, a new roof is an expensive and time-intensive process. When you work with a quality roofing company such as Hometown Roofing, you won't need to know the details of how a roof is installed as they will take care of everything. However, some homeowners are interested in what goes into the process of putting on a new roof. Here are the steps of the re-roofing process that your Hometown team will perform when they install your new roof.
Step 1: Delivery of Materials
One of our team members will deliver the roofing materials to your home on the day your project is scheduled to begin. We will place the materials in a designated location where they are out of your way and accessible to our team.
Step 2: Tear-Off of Old Roof
Before your new roof can be installed, the old one has to be removed. Our team will get on your roof and tear off all the old shingles and felt paper down to the plywood. All torn off materials will be disposed of by our team. If we find that your plywood is damaged or rotting, we will also remove it and replace it with new plywood. This gives us a clean, smooth foundation on which to install your new roof.
Step 3: Installation of Roofing Felt and Shields
After all the old or damaged materials have been torn off, our team will lay down new roofing felt. This is sometimes also referred to as roofing paper or tar paper. At this stage, we will also install water and ice shields in the valleys of your new roof and around the chimney to protect against the harsh Omaha weather. Before laying the shingles, we dry the entire roof.
Step 4: Installation of Shingles
When your roof is sufficiently dry, we begin installing the new shingles you chose during your consultation with our team. The time it takes to install shingles varies depending on the size of the roof, the materials being used, and the weather conditions. Higher-end materials like slate will take longer to install as they can crack or break if not handled carefully. Once shingles are installed, the team will paint vents and pipes to match the new color of your shingles if necessary to give a more uniform appearance.
Step 5: Final Inspection and Cleanup
Once the project has been completed, the Omaha roofing contractor from Hometown will inspect the roof to make sure there are no issues or flaws in the roofing materials. They will then inspect your entire property and look for nails, shingles, or fallen debris. A final cleanup will be performed to restore your property to the condition it was in before we started the project. We enjoy every new roofing project we perform for our customers and are happy to share our process! If you need a new roof or just want to have an inspection done to make sure your roof is in good shape, give the team at Hometown a call today.