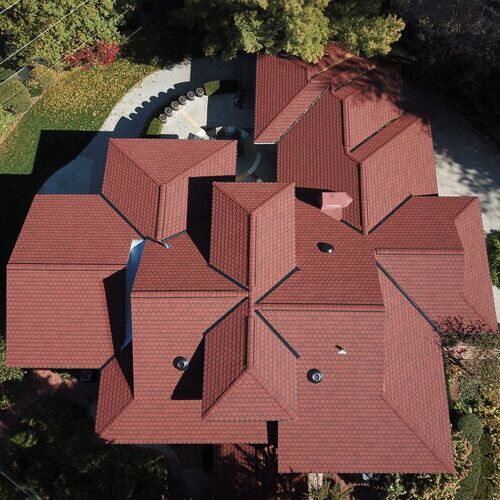 Advice on Tile Roofing
Tile roofing is very versatile and comes in a variety of different shapes and styles. For this reason, it is something special that you should consider if you are looking for a new roof. On the other hand, if you already have a tile roof, you may need the help of a professional roofing company to keep your tiles intact and operating as they should.
We are such a company at HOMETOWN ROOFING and we offer multiple services related to helping you upkeep your roof, no matter what type of roofing you have. You can work with us for tile roof repair in Omaha, NE, since we are experienced with many different types of tiles. To find out how we can service your needs, contact our roofers at 402-896-3639.
Clay Tiles
Clay tiles are a roofing material that have a specific look and appeal to them. They are made from natural clay and offer a layer of protection for your roof that may guard you from high cooling and heating costs. Clay can also stay intact for longer than other roofing and often requires little maintenance over the course of its life. However, the tiles can fall off and break sometimes, so you may need our help if this happens.
Concrete Tiles
Concrete tiles are another type of roofing that is made from natural materials. They are suited to be able to withstand heavy winds and won't have an issue with cold temperatures. They can last many years, as other types of tiles do, and won't require much upkeep either. Something else that may impress you about concrete tiles is that they are available in a variety of different styles, so there should be one that looks great with the rest of your home's exterior.
Synthetic Tiles
There are different types of synthetic tiles available that look much like other tiles, such as cedar and slate, but are more cost-effective. As a whole, they are able to keep their integrity in different weather conditions and can be recycled when they have reached the end of their life cycle. Also, they won't put as much weight on your roof, which can be a big problem if you have looked into natural roofing options, such as slate roofing.
Installations and Fixes
If you have ever had difficulties finding a residential roofer that is able to help with both repairs and installations, you don't have to worry about these things when we are on your crew. Our experts are able to offer installation for numerous types of tile roofing, as well as other varieties, and can provide repairs on large or small sections of your roof. We even excel when it comes to fixing roof leaks and storm damage roof repairs. You can also reach us if you have a roofing emergency and have nowhere else to turn. In other words, no matter what happens to your roof, when you need help, we have you covered. This can take a load off of your mind, and it can allow you to get your money's worth out of your roof. Let us help you maintain your tile roof and you should be able to enjoy it for many years.
Schedule a Visit With Us
Make sure you work with us once you need a tile roof repair in Omaha, NE. While many companies are able to handle this type of task, they may not have the years of experience that we have. Furthermore, our roofers value each one of our customers, and do the best job possible when it comes to providing results. This is something we pride ourselves on. You are special to us when you are a client.
Talk to us when you need tile roofing help, wish to discuss your options for roofing, or you want to employ us to complete another task for you. Our services are wide-ranging, so there is undoubtedly something we can help you with. Just call 402-896-3639 when you are ready.