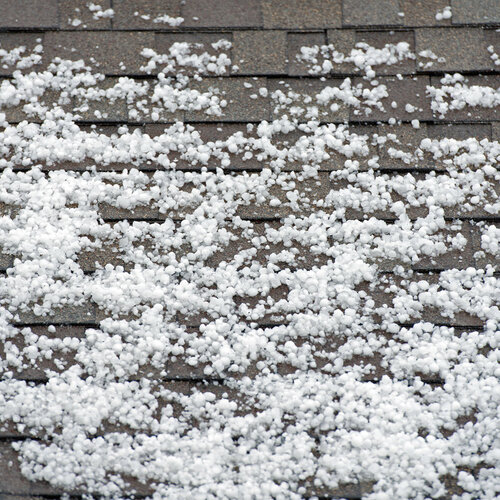 Watch Out for Hailstorms
Hailstorms are a particular type of weather event that often come out of nowhere, so you can't predict them or prepare for them. This can be troubling, since they are able to do so much damage in such as short span of time. Essentially, they may really mess up your roof, in some circumstances. If you ever need help with your roof after a hailstorm, you can discuss things with our team at HOMETOWN ROOFING.
We know what to do concerning roof hail damage repair in Omaha, NE, so we may have the answers you are looking for. Let us talk to you about what can be done and repairs that we are able to make for you. Converse with us at 402-896-3639 once a hailstorm has affected your home.
Warning Signs
It can be hard to know what the extent of hail damage is to your roof, especially if it has affected areas that you are unable to see. However, there are a couple of ways you can know for sure that you need the help of a roofer to have repairs completed. One is if there are others in the neighborhood that have incurred roof damage from a recent hailstorm. Another is if you see broken shingles on your roof or in your yard that were damaged and blown off the roof. If you notice that there are areas of the top of your house that look different than they did before the storm, this is something you should take note of.
Getting the Help You Need
Hail can come in many different sizes, so you really don't know how bad a storm will be until after it ends. When you want to be on the safe side, you should talk to a roofing company for help after you suspect your roof was damaged in a storm. A service like ours is able to provide roof inspections, which means we will take a look at your entire roof, to note what is holding up properly and what is not. Then we can discuss what damage has occurred and talk about what repairs will look like. Keep in mind that we will be there for you if you are in need of emergency repairs, or if you need assistance with a roof insurance claim. We have no problem helping you throughout the entire process, since we want your roof to be able to be intact and keep you safe.
Rely on our Team
If you notice that there are leaks in your house or bits of shingles are strewn across your yard, this is when you should talk to us about the next step. We are always available to aid with roof hail damage repair in Omaha, NE, so let us visit your house to see what we can do. Our team excels at storm damage repair of multiple types, and we will always do what we can to make sure that your roof works like it should. Moreover, you can trust our advice when it comes to repairs; we will never ask you to pay for repairs that aren't vital. Let us be your team to repair your roof after it is impacted by a hailstorm. Call us at 402-896-3639 and allow us to show you how diligently we work for each one of our customers.