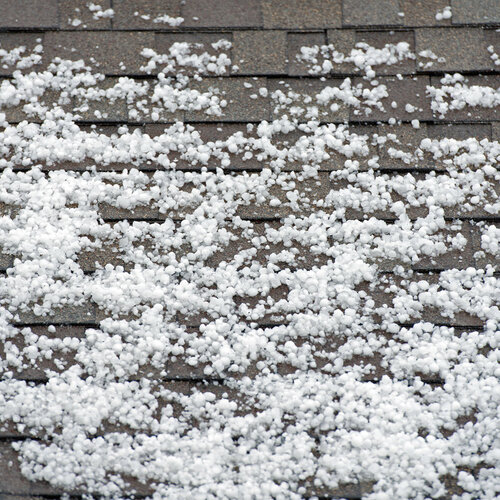 Dealing With Hail Damage?
Hailstorms can be a problem in our state. They can cause damage to property and injure people. They can also disrupt traffic and cause power outages. In short, hailstorms can be dangerous and destructive, and it is important to be prepared for them. As a homeowner or business owner, this often means knowing where to turn when you find yourself in need of roof hail damage repair. In Omaha, NE or any surrounding cities, if you've found yourself with a roof that's been damaged in a hailstorm, the team at HOMETOWN ROOFING can be there for you to get things back in shape. You can schedule your services by giving us a call at 402-896-3639.
Identifying the Need For Roof Hail Damage Repair
If you've been through a hail storm, it's always important to inspect your home or building for damage. However, not all damage is immediately visible, so you'll need to do a thorough inspection. When conducting your own visual inspection, some things to look out for include:
Bruises or dents on the roof: These are usually pretty easy to spot, and can be caused by hail stones that are big enough – usually hail stones of about an inch or larger.
Missing or damaged shingles: This damage may be more challenging to spot, as it can be easily disguised by other shingles. However, if you see any bald spots on your roof, it's a good indication that you need roof hail damage repair.
Granules in the gutters: Hail can cause granules from asphalt shingles to loosen and fall off. If you notice an unusually large amount of granules in your gutters, it's a good sign that your roof was damaged in a hailstorm.
There may also be other signs of hail-damaged roofing that aren't visible. This can include signs of leaks such as water stains on the ceiling or dripping from the attic. Over time, you may also notice signs such as an increase in energy bills. This is because hail damage to your roof can cause your home's HVAC system to work overtime by allowing more heat into your home. It's also important to note that all kinds of roofing may be damaged by hail. Though many people wonder whether a metal roof can withstand hail, even this kind of roofing is not immune to damage.
If you notice any of these signs, it's important to call a roofing contractor for a professional inspection. The sooner you get roof hail damage repair, the less extensive – and expensive – the repairs will be.
Professional Roof Hail Damage Repair
If you find yourself in need of roof hail damage repair, the team at HOMETOWN ROOFING is here to help. We offer high-quality services that are designed to get your roof back in shape after a hailstorm. Our team can get things started with a thorough roof inspection.
After our experienced professionals carefully inspect your roof for damage, we can advise you on the repairs that will be necessary to get it back into good condition. We can also help with services such as roof insurance claims help, reducing any financial difficulties that may arise from the need for unexpected roof repairs.
Schedule Your Services
Have you found yourself in need of roof hail damage repair in Omaha, NE or the surrounding area? Our team can be there to lend a hand with every step of the process, from identifying whether roof hail damage repair is actually necessary to help with the insurance claims process. If you are looking for assistance, reach out by calling 402-896-3639.