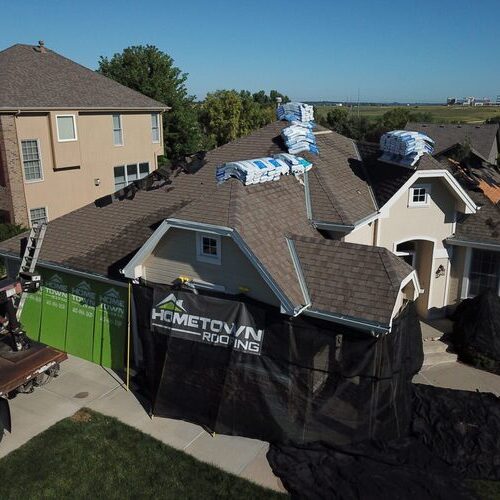 We Provide Emergency Repairs
Roofing emergencies can happen to anyone at any time, so it is important to have a professional roofing team on your side when this type of problem occurs. When you choose us at HOMETOWN ROOFING as your roofing team, this is a service that we provide. You won't have to wait by the phone to get help when time is of the essence. We are dedicated to helping our clients with emergency roof repair in Omaha, NE when the situation calls for it.
All you need to do when you feel like you have an emergency is to reach out to us. Our team will let you know what can be done, and if it is important that your roof is addressed right away, we will be there as soon as possible. Talk to us at 402-896-3639 whenever you need us. We are always available to help.
Emergency Issues
There are a few instances that qualify as a roofing emergency and if any of these situations occur at your home, you should call us right away for support. One is if you have encountered roof damage due to a storm and it has caused a leak in your home. The sooner that a leak can be closed off or repaired, the less damage it can produce. These leaks usually show up suddenly, which is why they are considered to be an emergency. For instance, if your roof has started to leak and there is still rainy weather, this is something that must be closed off ASAP, so the interior of your home won't be at risk. If you are unsure of whether your repair is an emergency or not, go ahead and reach out to us, just in case. We can advise you on what to do.
What is a roofing emergency?
A roofing emergency generally occurs when a storm or something else has caused a sudden leak in your home. If a leak continues to make your house vulnerable, it can cause damage to both the inside of your home and your entire roof. A leak should be closed off as soon as possible, for best results.
Can I fix an emergency roof leak myself?
While it may be possible to fix a roof leak by yourself, it isn't ideal. For example, you may be unable to determine where a leak originates. It is also not a good idea for you to try to climb on your roof to see for yourself. Instead, you should call on a professional roofer, so they can do a proper inspection of your roof.
Should I call a roofer when I have a roofing emergency?
You should always call a roofer when you have a roofing emergency, or even if you suspect you do. They will be able to provide you with further details and let you know what the next step is. If you do have an emergency, a roofing company can arrive quickly and determine what repairs need to happen.
How We Can Assist You
Once you decide to confide in us about your roofing emergency, we can determine when we are able to come to visit your home. If the weather permits, we can arrive right away and cover any leaks or holes with a tarp until the damage can be assessed properly. When the area is safe, we can inspect your roof, in order to tell how extensive the damage is. After a roof inspection has taken place, we can talk to you about your repair options. Additionally, we can work with your insurance company to help you file a claim on your roof damage, as well as complete the repairs for you. There's no reason to hire more than one company for this process because we are able to do it all.
Dial Us Anytime
Having any type of emergency can be stressful, but when you need an emergency roof repair in Omaha, NE, we've got you covered. We will always handle the situation in a timely manner, and do what we can to complete your repairs as soon as possible. Unlike other companies, we won't have you waiting for hours or days to hear from us. Our team can help with emergency repairs, as well as repairs that you need due to wind, hailstorms, or storms in general. Call on us whenever you don't know where to turn and you think you have an emergency situation. Dial 402-896-3639 and we will lend a hand any way we can. You won't have to worry, since we will have your back throughout the entire process.