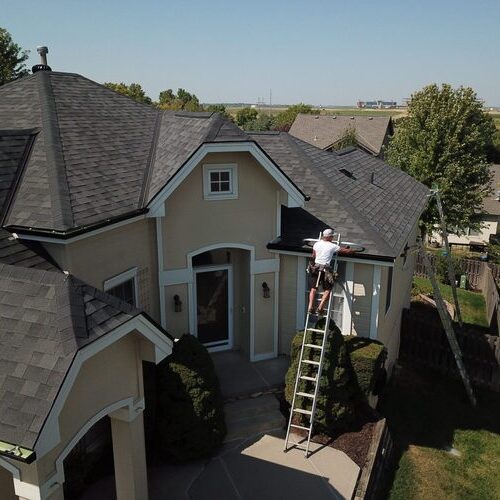 Is It Time For An Inspection?
It's important to inspect your roof regularly, not just for leaks and damage, but also for signs of wear and tear. If you catch problems early, they can often be repaired at a fraction of the cost of replacing the entire roof. And if a roof does need to be replaced, you can get the job done before you have a far bigger problem to deal with. If it's time for you to schedule your roof inspection in Omaha, NE or in the surrounding area, the HOMETOWN ROOFING team can be there for you. Schedule your roof inspection today by reaching out to us at 402-896-3639.
When to Schedule Your Service
Most homeowners don't think about their roof until it starts leaking, but regular inspections can prevent that from happening. It's a good idea to have your roof inspected at least once a year, and perhaps even more often if you've recently been through some severe weather – something we're no stranger to in our area. However, in some circumstances, you may want to go ahead and schedule a roof inspection, even if it's a bit early. That way you can identify potential issues before they become far bigger problems.
If you've noticed any of the following signs, it's time to call for an inspection:
Shingles that are cracked, curling, or missing: These are all signs that your roof is no longer providing the level of protection it should be.
Leaks in your attic or ceiling: If you're seeing water stains, it's a good indication that there's already some damage that needs to be dealt with, and you should find and fix that damage as quickly as possible.
Moss or algae growth: While this isn't necessarily a structural issue, it can be a sign that your roof isn't draining properly, which can lead to other problems down the road.
Granules in your gutter runoff: As your shingles age, they start to lose the little granules that protect them from the sun's UV rays. If you're seeing these in your gutters, it means your roof is getting close to the end of its lifespan.
If you're not sure whether or not your roof needs to be inspected, it's always better to err on the side of caution and give us a call. We'll be happy to take a look and let you know what we find.
What Can I Expect With My Roof Inspection?
A roof inspection is a visual examination of your roof to check for any damage, wear, or defects. During the process, our inspector will also look for any signs of leaks or water damage. If any problems are found, the inspector will provide a recommendation on what needs to be done to fix them. This could be a simple roof repair that will keep your roof functioning the way it should be or it could be a roof replacement if your roof has experienced a lot of wear and tear. However, you can always expect one thing when you come to us for a roof inspection – an honest, professional assessment of your roof's condition.
Schedule Your Inspection Today
If you're in need of a roof inspection, the team at HOMETOWN ROOFING is here to help. We'll be happy to answer any questions you have and schedule an inspection at a time that's convenient for you. Ready for your roof inspection in Omaha, NE? Get in touch at 402-896-3639.