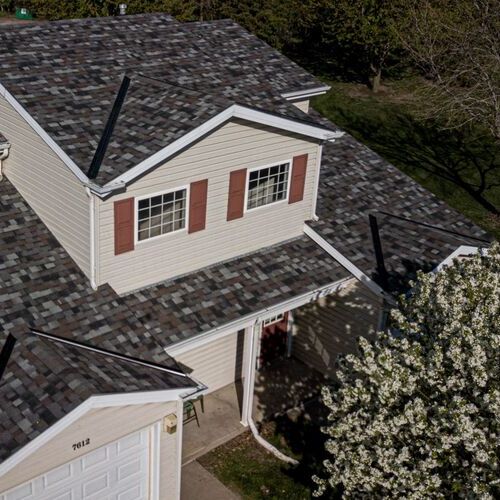 Aid with Asphalt Shingles
Asphalt shingles are one of the most popular roofing types and it may be exactly what is on your home. If you are familiar with this type, you may know that it has many pros that make it an exceptional roofing. At HOMETOWN ROOFING, we have experience with this type of shingles, as well as other types of tiles that can be installed on your roof.
We are qualified to help with asphalt shingle repair in Omaha, NE, so you may always lean on us if you have concerns with your roof. You should call us at 402-896-3639 for a quote.
We Can Repair or Replace
Some of the most attractive things about asphalt shingles is that they are economical, come in many different colors, so they can match the rest of your house, and this variety of roofing is able to hold up in different types of climates. These shingles won't become damaged easily, but when they do, you should always have them replaced or repaired as soon as you notice a problem. Our team is able to lend a hand with these types of jobs, as well as if you need a roof leak repaired as a result of missing shingles. Just be sure to talk to us quickly once you notice there's something wrong on your roof.
What is the average lifespan of a shingle roof?
A shingle roof typically has a lifespan of 20 to 30 years. However, the exact lifespan will depend on various factors, such as the quality of the shingles, the climate, and whether you received proper installation.
What causes roof shingles to deteriorate?
There are several reasons why roof shingles might deteriorate, such as exposure to sunlight and extreme temperatures, poor ventilation, and the use of low-quality roofing materials.
How do I know if my shingles are damaged?
There are several signs that your shingles might be damaged, such as curling, cracking, or missing granules. If you notice any of these signs, it's important to have a professional inspect your roof.
Call Us Anytime
If you have asphalt shingles on your home and you are looking for a residential roofer to help you with asphalt shingle repair in Omaha, NE, we are a team that is ready to fix up your roof. We can add new shingles when you need them, or in some cases, repair existing shingles, depending on the damage that is present. You may also want to talk to us when you require an inspection on your roof, which can be necessary if you aren't sure of the condition of your shingles. We can give you an update about how well your roof is holding up and if any repairs are necessary. In fact, you can talk to us at 402-896-3639 anytime you are looking for answers regarding residential roofing. Our team may have the answers you are seeking.