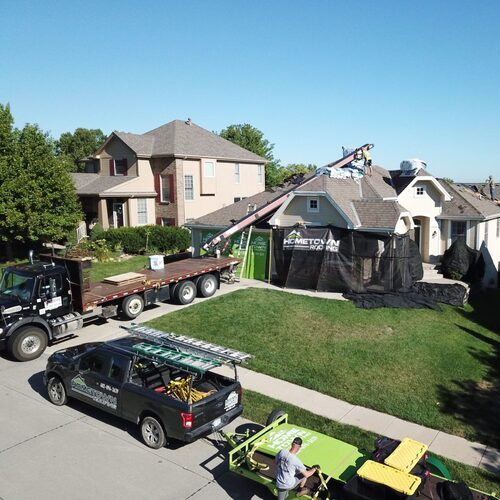 Roof Leaks Handled
When your roof begins to leak, this may be something that you consider a nightmare. Even a minor leak can become quite damaging overnight and ruin both your roofing and parts of the inside of your home. While some leaks can be prevented, some cannot. This is why it is a good idea to work with a roofing company that has the skills it takes to fix leaks of all types. You can be sure we meet these qualifications at HOMETOWN ROOFING.
Our team is equipped to provide roof leak repair in Omaha, NE, no matter the size of the leak. You must make sure that you call us as soon as you note a problem though. This can lead to less damage overall. Reach out to our roofing team at 402-896-3639 and we will be there to help quickly.
Causes of Leaks
There are a few things that can cause your roof to leak. One is when a storm comes through your area. If you have experienced severe storms in your neighborhood, it may be necessary to call a roofer to fix a leak. You may also see a leak on your roof if yours is aging or hasn't been regularly maintained. In other words, if you don't remember the last time you had your roof inspected, this could mean that there are problems present on your roof that have resulted in leaks. Always look at your roof and yard when you experience a storm system, hail, or strong winds, to make sure that all your shingles are intact. If they are not, this is the first clue that a leak is possible. You can also look at the houses around you. When there are clear problems with their roofing, this may be the case for your roof as well.
Other Things to Consider
Roof leaks may also occur if there are other parts of your roofing system that are weak or wearing out. Perhaps you haven't had your soffit & fascia replaced in years and the wood is rotten. This could lead to a leak in your home. A gutter system that is broken or backed up could also be causing leaks. Do your best to have your roof inspected when you should and make sure that your roofing company checks all the aspects of your roofing system. At HOMETOWN ROOFING, we always inspect these items, so you can trust our assessment of your roof. You may also want to check both inside and outside your home for signs of leaks regularly, so you can do all you can to catch a leak before it causes an expensive problem for you.
Dial Us for Support
Our roofers can provide roof leak repair in Omaha, NE, no matter the size of them. Even if you need extensive repairs due to a leak, you can talk to us for advice on the matter. We will tell you all the options that are available and you can rely on our advice, since we will always explain the proper and most fiscally responsible solution when it comes to keeping your roof in good working order. Or, when the damage is too great, we will talk to you about roof installation options. Contact us at 402-896-3639  at the first sign of a leak, and we should be able to lend a hand.