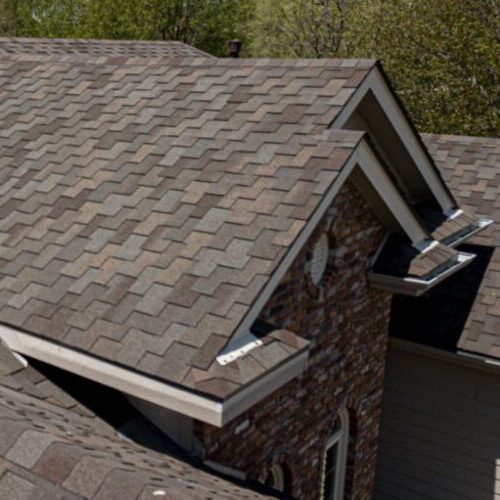 Your Roof Matters to Us!
Looking for a reliable and experienced roofing company to install a new roof on your home? Perhaps you're in need of some repairs to get your roof back into the best shape possible. Whatever it is you are searching for, you don't need to look any further than our team of experts at HOMETOWN ROOFING. We provide high-quality residential roofing services that are sure to meet your needs and budget. With over 50 years in the industry, our team is capable of handling any roofing job you send our way. No job is too big or too small for our team! For the help of a truly dependable residential roofer in Omaha, NE we encourage you to reach out to us. Call 402-896-3639 to get things started.
Is It Time For a New Roof?
One of the most challenging things for any homeowner to deal with is a roof that's nearing the end of its lifespan. Unfortunately, it's something every homeowner will need to deal with eventually, but if it's a problem you're facing you can count on us to provide the help you need. Roof installation is among our many different residential roofing services, and we can provide assistance with residential roofing systems of many different types from asphalt shingles to metal roofing. Among the many different options we can help with are:
Asphalt shingle roofing: This is one of the most popular types of roofing systems among homeowners for its affordability and easy maintenance.
Metal roofing: Metal roofs are becoming increasingly popular due to their durability, energy efficiency, and classic look.
Clay tile roofing: Tile roofs are a great option for homeowners looking for durability, aesthetic appeal, and energy efficiency.
Concrete tile roofing: Like clay tile roofing, concrete tile roofs are highly durable and energy-efficient. They are also a great option for homes in this area due to their resistance to high winds.
Which roofing option is best for you and your home? If you aren't certain, a residential roofer like the team at HOMETOWN ROOFING can help in the decision-making process.
A Residential Roofer to Meet All Your Needs
Having a strong and sturdy roof over your head doesn't end with the installation of your new roof. There are various other services that may be needed over the lifespan of your roof, and as a leading residential roof company in the area, our team is here to help with these services as well.
Roof repairs are commonly needed, and damage to a roof can arise from various factors ranging from severe weather conditions to falling tree limbs. But no matter the kind of roof repair you need, it's important to reach out to a qualified residential roofing contractor – fast! A seemingly minor problem can quickly transform into a far bigger issue if neglected, and one that can be far more expensive to take care of.
Roof replacement is also needed from time to time, regardless of how well your roof has been taken care of over time. And when you need a roof replacement, there are many things to consider. For example,
Schedule Your Service Today
Don't wait to get the roofing assistance you need. Whether your roof is in need of repairs or it's time for a replacement, there are many things you want to consider. For example, which type of roof is most energy-efficient? You likely have this and many other questions about our services.
If you're dealing with roofing issues, we'll send a qualified roofer to your home to assess the situation, discuss the various available options with you, and provide you with a free estimate. When you need the help of a residential roofer in Omaha, NE you can rely on HOMETOWN ROOFING. Schedule your service by giving us a call at 402-896-3639.