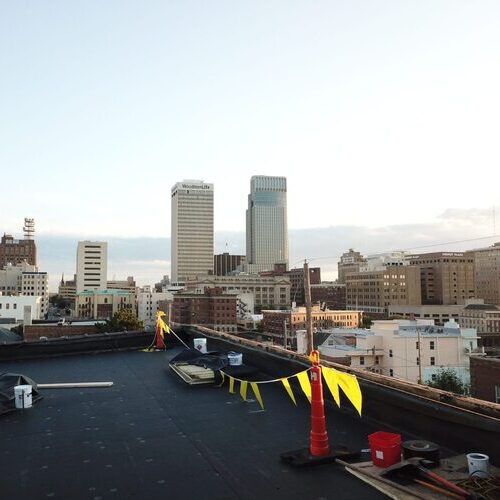 We Work with EPDM
When it comes to commercial roofing, not all roofing companies are able to handle large jobs or work with the specialized materials that these types of tasks require. However, at HOMETOWN ROOFING, we have been installing single ply roofing options for many years, so we know what we are doing.
Of the types we have experience with, EPDM roofing in Omaha, NE is a type that is quite noteworthy. There are a number of reasons you may want to consider this roofing for your business, and we can talk to you about these reasons. Simply call us at 402-896-3639 once you are ready to learn more about this type of roofing.
Pros of EPDM
There are some things about EPDM that make it special. One is that it is designed to keep your roof waterproof for many years. This can be crucial if you have a roof with no slope and you don't want the weather to be able to affect your roof much. When this type of roof is installed and maintained properly, it can keep you covered for quite a while. It may also be able to protect from other types of weather, including sunny and windy conditions. This material can even be added directly on top of the roof you already have, in many cases, in a day or two. There's a chance that it can help you save money on your heating and cooling bills as well, in all seasons.
Our Team is Waiting on You
If the pros of this type of commercial roofing sound good to you, it may be time to reach out to talk about the next step to getting a new roof placed on your building. You may be surprised at the options that are available to you, but you won't know until you make a call to us. We are qualified to work on EPDM roofing in Omaha, NE, as well as other types of roofing, including metal roofing. Allow us to inform you on what to expect and how long the process will take. Contact us at 402-896-3639 to hear more specifics.