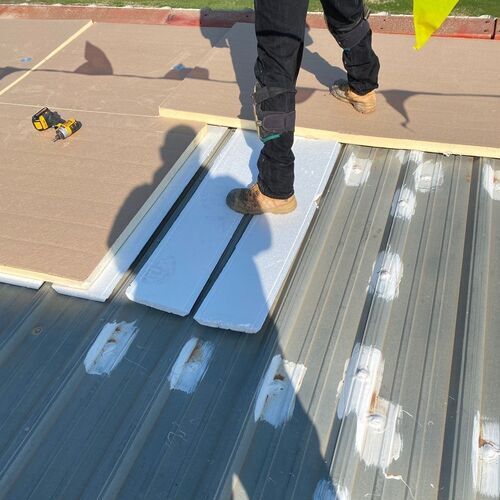 Durable Metal Roofing Solutions
Here at HOMETOWN ROOFING, we offer a wide range of metal roofing services to meet your needs. You can count on the fact that we have a variety of metal roofing materials to choose from, and we can install a new roof or repair an existing one. So what are you waiting for? If you've been thinking about metal roof installation in Omaha, NE or you've found yourself in need of repairs, our team is ready to help you. Just call 402-896-3639 and let us show you what we can do.
Choosing a Metal Roof Installation
Metal roofing systems offer a number of benefits that other roofing materials cannot match. For one, metal roofs are extremely durable and can last for decades with little to no maintenance. They're also fire-resistant, meaning they can withstand high temperatures without igniting. Additionally, metal roofs are resistant to weather damage and can keep your home or business safe, even with the sometimes harsh weather we can experience in this area.
A metal roof installation can also be an incredibly energy-efficient choice, which is something that any homeowner or business owner can appreciate. This is because metal roofs reflect heat away from your home or business – something that can help keep your energy bills down. Additionally, metal roofs are recyclable, meaning they're an eco-friendly choice for those who are looking to do their part for the environment.
There are a number of other benefits to metal roofing that homeowners and business owners should consider. For example, metal roofs can be custom-designed to meet your specific needs, and they can also be installed quickly and easily while still being an especially attractive option.
Of course, a metal roof isn't for everyone, which is why we're here to help. If you're considering a metal roof installation, our team can help you make the best decision for your needs. We'll take into account the age of your home or business, the type of building, your budget, and more in order to help you choose the best roofing option.
Is It Time for Repairs?
Even the most durable roof may sometimes be in need of repair, and metal roofing is no exception. If you've noticed any leaks or you can see visible signs of damage to your metal roof, such as dents, get in touch. Our team can lend a hand with our high-quality metal roof repair services, which can get your roof back in top condition in no time at all.
It's always important to reach out for metal roof repair at the earliest sign of an issue. After all, damage to your roof isn't going to go away on its own. Damage will only become far worse over time, and if left unaddressed, it can lead to the need for a full roof replacement.
Not sure whether or not you require metal roof repair? Our team can help. We can perform an inspection to identify any issues you may be experiencing with your roof and help you decide on the best step to take, whether that is a metal roof repair or a new metal roof installation. Additionally, we provide a range of other roofing options as well, including but not limited to single-ply roofing materials for commercial roofing, along with choices such as traditional asphalt shingle roofing, clay tiles, or concrete tiles for residential roofing applications. We have experience working with roofing systems of all types, and our team is always here to help you find the right roofing solution.
Regardless of the kind of help you need with your roof, one thing you can count on is that we have the experience and the expertise to get the job done right. That's true no matter what kind of assistance you may be looking for with your roof. So there's no reason to delay. If you think a metal roof may be the right choice for your home or business, our team can be there for you to help you make the best decision possible. The team at HOMETOWN ROOFING is ready to lend a hand with all of your roofing needs.
How many years will a metal roof last?
A metal roof can last for decades, but its lifespan will depend on the type of metal used, the climate where it is installed, and the level of maintenance it receives. With proper installation and care, you can expect 40 to 70 years from a metal roof, on average.
Will a metal roof rust?
A metal roof can rust, but it is not common. The most common types of metal used in roofing are aluminum and galvanized steel, both of which are resistant to rust. If a metal roof does rust, it is usually because the protective coating has been damaged and the metal has come into contact with water, making it easy to prevent this issue.
Will metal roofs make a house hotter?
No, a metal roof will not make your house hotter. In fact, reflective metal roofs can actually help keep your home cooler in the summer by reflecting sunlight away from the building. This can help reduce your energy costs and keep your home more comfortable.
Schedule Your Services Today
No matter what your metal roofing needs may be, we're here to help. Get in touch with us today to learn more about our services or to schedule a free consultation. Our team is ready and waiting to assist you in any way possible. Are you seeking metal roof installation in Omaha, NE? You can get your free quote by giving us a call at 402-896-3639.
Standing Seam Metal Roofing We can be there to help with installation, repairs, and other services for this high-quality metal roofing option.