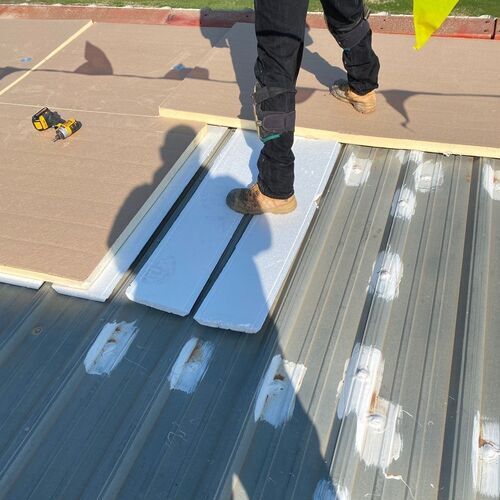 We Install Metal Roofs
Metal roofing is a popular type of roof for a variety of reasons. Not only do they look good, but they can also hold up well for many years. If you have a metal roof on your building or would like to talk about one, you should know that there are roofers in your area that can make sure that you have professional support when it comes to your metal roof. At HOMETOWN ROOFING, we are able to provide metal roof installation in Omaha, NE, and we can also be there for other commercial roofing services, if and when you need them.
Go ahead and reach out to us once you are ready to talk to us about your roofing options and how we can help you keep your home or business safe. While it is possible to install this roofing yourself upon occasion, it is better if you rely on a professional team to help. This comes with guarantees and warranties that may not be present when you are working alone. Instead, call us at 402-896-3639 to get advice or if want to talk about available options to consider.
Why They Are Special
There are a few major reasons why metal roofs are loved, and they have been for quite some time. One is that they are designed to last for decades, especially when they are cared for properly, which should be the case when you work with us as your roofing resource. While you can have a metal roof on your home, many businesses also have metal roofing. We have experience working with this type of roofing on many types of buildings, so feel free to talk to us, no matter what your needs are. This type of roof can be applied in a number of different colors, may save you money on heating and cooling, could lower your insurance rates, and is made from a natural material. These things may make you seriously consider a metal roof when you need a new roof and aren't sure what type you want.  
Standing Seam Roofs
One specialized type of metal roofing that we can install is called standing seam metal roofing. This type has panels that are designed to interlock with each other effectively, and can be crimped closed on site, which makes them watertight and able to keep out the elements. This type of roofing can also be applied quicker than some other options out there, which may be an attractive advantage to you. When you decide to talk to us, be sure to ask about standing seam roofing if this is something that you have questions about.
Inspections and Repairs
In addition to installing new roofs, we are also available to repair metal roofs. While metal roofs have few problems and don't require much maintenance, every now and then they may break or tear unexpectedly. We can fix these problems for you, especially if you call on us to complete a roof inspection. These are something that you should take advantage of every year or so, in order to be aware of the condition of your roof. In other words, inspections can help you become aware of small problems and weaknesses before they turn into major headaches. Our team always checks every space, so we always do a thorough job. After the inspection, we will discuss what we saw and what should be done to remedy any issues. If there are none, we will let you know that as well.
How many years will a metal roof last?
A metal roof can last for decades, but its lifespan will depend on the type of metal used, the climate where it is installed, and the level of maintenance it receives. With proper installation and care, you can expect 40 to 70 years from a metal roof, on average.
Will a metal roof rust?
A metal roof can rust, but it is not common. The most common types of metal used in roofing are aluminum and galvanized steel, both of which are resistant to rust. If a metal roof does rust, it is usually because the protective coating has been damaged and the metal has come into contact with water, making it easy to prevent this issue.
Will metal roofs make a house hotter?
No, a metal roof will not make your house hotter. In fact, reflective metal roofs can actually help keep your home cooler in the summer by reflecting sunlight away from the building. This can help reduce your energy costs and keep your home more comfortable.
Let Us Impress You
There is a lot to love about metal roofs, and if you want one for your home or business, we may be the team that you should lean on to install one for you. We excel at metal roof installation in Omaha, NE and we are available to lend a hand to you. Let us help you choose the metal roof you want, and we can begin the installation process as soon as possible.
Besides that, we are always around to inspect your roof and make repairs at the proper times. Keep these things in mind while you are considering your options. Since these roofs last so long, you should make sure that you like the look of it and that it works well for your purposes. These are things that we may aid you with. Go ahead and talk to our team anytime at 402-896-3639 so we can get to work for you. We'd love to take the time to talk about the types of metal roofing that will be perfect for your roof.
Standing Seam Metal Roofing One type of metal roofing that may be a great fit for you is standing seam metal roofing, which is strong and watertight.