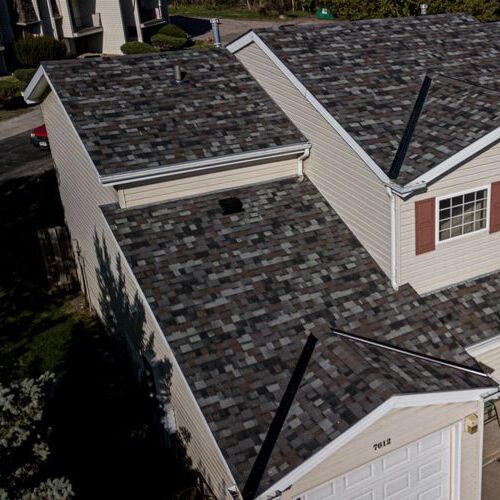 Interested in a Slate Roof?
If you have ever seen a slate roof, you may have wondered if this was a type of roofing that could work well at your home. It may be possible to have a slate roof installed at your house when you choose HOMETOWN ROOFING as your roofer. We have what it takes to install slate roofing in Omaha, NE, and if this isn't something that can go on your roof, we work with many other options. Our experts can install tile, clay, and asphalt shingle roofs as well.
Anytime you are ready to talk about slate or other types of roofing that you are interested in, all you need to do is call and make an appointment with us at 402-896-3639. We are eager to help you get the roof you want.
Pros of Natural Slate
There are many benefits associated with slate roofing that you may not be aware of. One is that it holds up for many years, more than some of the other types of roofing out there. Another is that it has a classic look. When a home has a slate roof, it adds a bit of character that other roofing cannot duplicate. Other advantages include that it can be installed in many different climates, since it holds up well to snow, rain, and sunny days, and that this type of roofing is made of natural materials. Slate is actually a type of rock and can be cut into tiles that match the style of your home. In other words, every slate roof will not look the same, which may be important for you to know. Slate will also resist mold and fungus, so you won't have to worry about discoloration or germs on your roofing. In fact, there is very little maintenance associated with slate, and of course, if your roof ever has a problem, our roofers can be there to repair the issue right away.
Tell Us What You Need
As a homeowner, if you are considering a slate roof for your next roof, you will likely want to work with a team that has experience installing this special type of roofing. Don't hesitate to talk to us for slate roofing in Omaha, NE. We can let you know about all the things you may look forward to with your new roof and give you a quote for the job as well. Moreover, we can let you know if slate roof will work on your home, and if not, we can describe other varieties, such as synthetic slate, which provides some of the same pros as natural slate. Dial 402-896-3639 to take the next step to getting a new roof placed at your home.