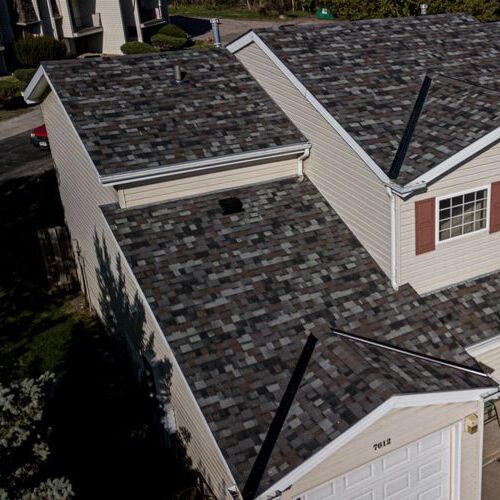 Why Choose Slate?
Slate roofing has a long history of use in Europe and North America. It is an excellent material for roofing because it is durable, waterproof, and relatively low maintenance. Slate roofs can even last for hundreds of years with proper care. They are also very aesthetically pleasing and can add value to your home. That makes it easy to see why you may want to choose slate roofing for your home. If you're considering slate roofing in Omaha, NE or in the surrounding area, our team can be there for you. Just reach out at 402-896-3639 to learn more or to schedule your service.
Getting Help With Slate Roofing
Of course, as durable as it is a slate roof can still experience damage over time. That's why it's important to find a qualified roofer able to provide slate roof repair when needed. Some of the more common issues that can arise with slate roofing include:
Cracked or broken slate tiles: While slate is a very strong material, it can still crack or break. This can be caused by severe weather conditions, falling tree limbs, or even just age and wear and tear.
Missing slate tiles: Slate tiles can also come loose over time due to wind, ice, or other factors. This can leave your roof vulnerable to leaks and other damage.
Staining: One of the most common problems with slate roofs is staining. This can be caused by algae or moss growth, as well as dirt and debris buildup. If the staining is bad enough, you may opt for a new slate roof installation.
Leaks around flashings or other roof penetrations: Slate roofs are also susceptible to leaks around flashings or other roof penetrations. This can be caused by improper installation, age or wear, and damage from severe weather conditions.
Moss or lichen growth on the roof: Moss and lichen growth is common on slate roofs. While this doesn't necessarily cause damage, it can be unsightly. It can also lead to dirt and debris buildup, which can eventually lead to staining.
If you're experiencing any of these problems with your slate roof, our team can help. We offer slate roof repair as well as slate roof installation, so you can get your roof into the best shape possible when you come to us.
Reach Out to Our Team
Whether you're interested in everything slate roofing has to offer or you just need to get your current slate roof back into shape, we can be there for you. Reach out to our team whether you are seeking slate roof repair or slate roof installation. We also offer help with a variety of other roofing materials including traditional asphalt shingles and clay roof tiles. When you need help with slate roofing in Omaha, NE or the surrounding area, come to us. You can reach us at 402-896-3639.