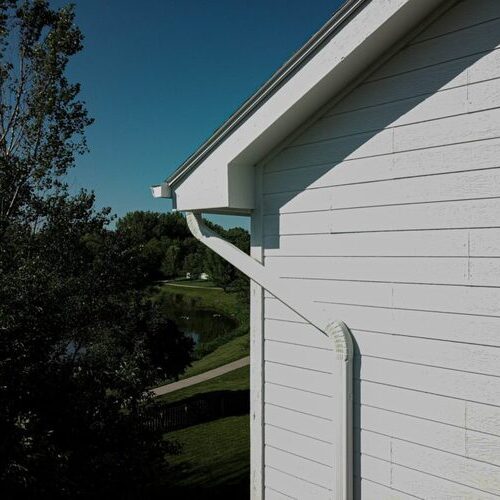 Get Your Gutters Back in Shape
Your roof gutters play a very important role in your home. Not only do they help protect your roof from water damage, but they also help protect the foundation of your home by directing rainwater away from it. If your gutters are clogged or damaged, not only will they not be able to do their job properly, but they can also cause serious damage to your home. If you need gutter installation in Omaha, NE or the surrounding area, you want to be certain you have the job done by someone you can trust. That's where we can be there to help. If you're ready to schedule your services, get in touch by calling 402-896-3639.
Getting Quality Gutter Installation
If you're in need of gutter installation, be sure to reach out to us. We have years of experience and can help get the job done right, no matter what it is you need. We're equipped to handle all types of gutters and can even help with gutter damage repair if that's something you need. We know how important it is to have quality gutters, so we'll be sure to take care of you every step of the way.
Our team can be there to help with gutters of all types. If you're interested in gutter installation but aren't certain which choice is best for your home, some of the options we can help you with include:
Seamless gutters: These are a great choice because they're less likely to leak and are very easy to clean. They're also much less visible from the ground, which can be a plus.
Copper gutters: Copper is a beautiful choice for gutter material and it's also very durable. It won't rust or corrode and can last for many years.
Aluminum gutters: Aluminum is a popular choice because it's lightweight and won't rust. It's also very affordable, which makes it a great option for many homeowners.
Vinyl gutters: Vinyl is another affordable option that's easy to install and maintain. It's also available in many different colors so you can find the perfect match for your home.
These are all great choices that can be beneficial for many reasons. However, in some cases you may already have gutters on your home, but those gutters are damaged or have experienced a lot of wear and tear. In this case, you may need gutter repair services or, if the damage is too extensive for gutter repair, a full gutter replacement.
Reach Out to Schedule Service
Our team can be there to lend a hand no matter what it is you need. Whether you're seeking gutter repair, gutter replacement, or you're interested in gutter installation in Omaha, NE, we can be there for you. We offer this in addition to various other residential roofing and commercial roofing services. Just give us a call at 402-896-3639 to get things started.