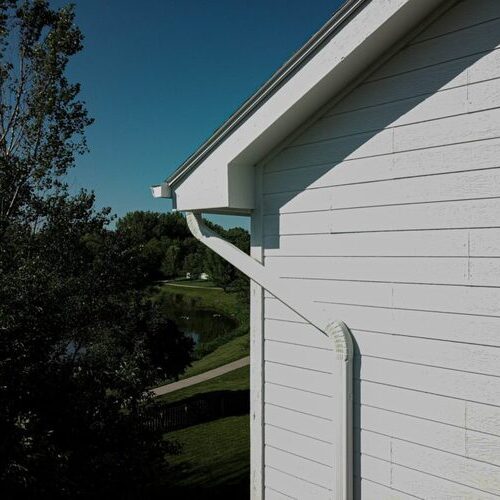 We Can Check Your Gutter System
You may not think about your gutter system very often, but it can be a crucial part of your roofing system. It is able to protect your roof, home, and yard from a variety of things, including standing water, and may even be protecting your foundation. At HOMETOWN ROOFING, we are skilled when it comes to gutter installation in Omaha, NE. This might make us the right company to call when you are looking for assistance or advice concerning your gutters.
Perhaps you want to talk about your options when it comes to gutters or you are interested in finding out more about other services we offer, such as roof repairs and inspections, you may talk to us directly anytime by calling 402-896-3639. You may be impressed when you learn about all the ways that we can assist you.
Many Options are Possible
You may not know the proper time to get a new gutter or to have yours repaired. As a general rule, when you notice leaks on your walls, inside or outside, or you see standing water in your yard when it rains, these could indicate that your gutter system isn't working like it should. Instead, it must be inspected, so any problems can be noted and fixed. However, in some cases, the repairs would be too costly. This is when it may be more prudent to have a new system installed, which could save you money in the long run.
Getting New Gutters
When you are thinking about getting a new gutter system, there are so many different types that you should consider. Our experts are able to install multiple types at your address, including seamless, aluminum, copper, steel, vinyl, and more. You can talk to us about all of the pros and cons of each type, and we will be able to give you a rundown of what to expect with every variety of gutter. Since we work with so many materials, there is likely one that will match your home perfectly. Let us install one at your house, since we have a plethora of options and can deliver results efficiently.
Discuss Specifics With Our Team
You don't have to search online to find the best roofer in your area for help with your gutters. We are skilled at gutter installation in Omaha, NE and can also provide other services for your home. For example, we will repair skylights, siding, and can also be there to address emergency repairs. In other words, we can have you and your home covered in a variety of different ways when you work with us. Keep this in mind when you need a residential roofer in your corner. Dial 402-896-3639 to schedule an appointment. Just make sure you call us before your gutters become a big problem for your home and yard.