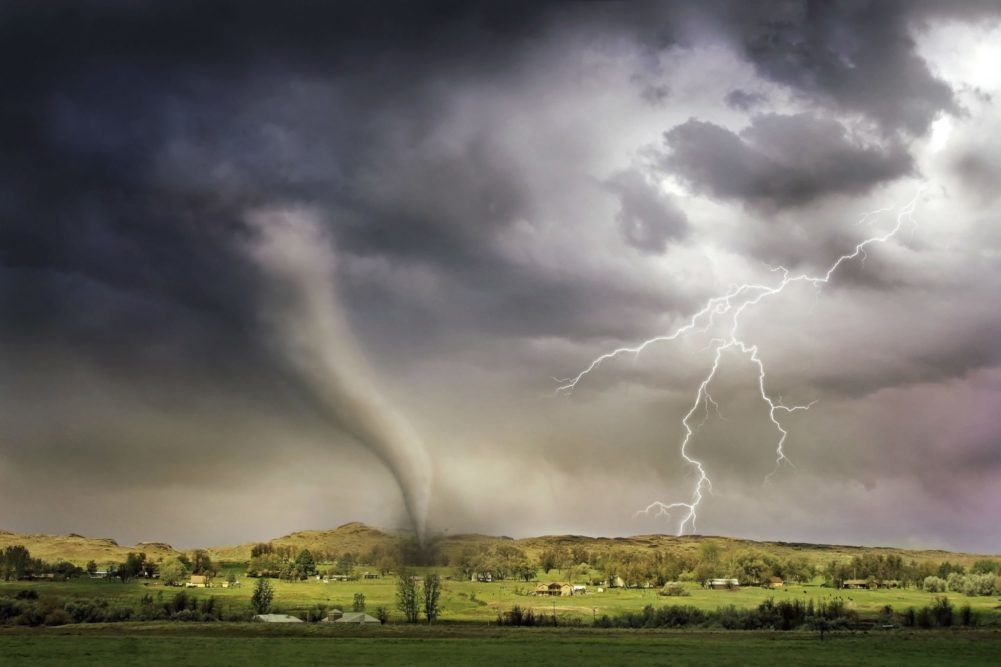 Looking at Disaster
Every midwestern homeowner knows that there is nothing as destructive to their roofs (and the rest of their homes) as tornadoes. Fortunately, Omaha-area homeowners have experienced very few damaging tornadoes, but the rest of the state and the U.S. as a whole isn't so fortunate. Here are the most destructive and deadliest tornadoes that have ever hit the U.S.
Nebraska's Deadliest Day: March 23, 1913
There were actually seven tornadoes that hit Omaha and the surrounding area on March 23, 1913, killing more than 100 people. The tornado that hit Omaha itself killed 101, starting in Sarpy County and making its way through Ralston and cutting a quarter-mile-wide path across Omaha. 600 homes were destroyed and 1,100 others were damaged by this single tornado. The second deadliest in this storm crossed the Platte River and destroyed half the town of Yutan, killing 17 people in the process. Four churches and 40 homes were destroyed or damaged. Coming in third on this date was the tornado that began four miles south of Douglas and traveled to the town of Berlin (now called Otoe). It killed 12 and resulted in $250,000 in damage. The tornado continued its path into Iowa, killing another five.
Largest Death Toll in the U.S.: March 18, 1925
The tornado that devastated Missouri, Illinois, and Indiana on March 18, 1925 killed 695 people and injured another 2,000. This deadliest tornado in American history affected three states, carried sheets of iron as far as 50 miles away, and destroyed several entire towns.
The South Gets Hit: April 5-6, 1936
The Midwest is not the only place where tornadoes cause devastation. Tupelo, Mississippi and Gainesville, Georgia experienced this with an outbreak of more than 12 tornadoes that lasted for two days in 1936. The F5 tornado that hit Tupelo killed 216 people, destroyed the Willis Heights neighborhood, and swept away entire mansions (and families). 48 city blocks were leveled and upwards of 900 homes were completely annihiliated. Gainesville got hit the next day by two tornadoes, killing 203 people and destroying the Cooper Pants Factory. 70 workers were killed in the factory, the highest single-building death toll by a tornado in American history.
Oklahoma's Deadliest Tornado: April 9, 1947
Oklahoma is the heart of tornado alley, so it's no surprise that the state had one of the most devastating tornadoes in history. The Woodward tornado was almost two miles wide and traveled at over 50 miles per hour for more than 100 blocks. The entire town of Woodward was leveled and more than 1,000 homes and businesses were decimated.
Joplin's Third Strike: May 22, 2011
Joplin, Missouri is an unlucky town. The disastrous tornado that struck in 2011 was the third to hit the city since 1971. The most recent disaster featured a one-mile wide tornado that killed 158 and injured another 1,000. There was $3 billion worth of damages and it was reported that more than half of those killed died inside their homes.
Rural South Disaster: April 24, 1908
Though 143 deaths were attributed to the tornado that struck the Amite, Louisiana and Purvis, Mississippi areas in 1908, it's thought that the toll could have been much higher. The tornado struck mostly in rural areas and many deaths may not have been properly recorded. The tornado was later rated as an F4 and thought to have injured hundreds of others.
Michigan's Deadliest Twister: June 8, 1953
The F5 that hit Michigan in the '50s traveled at speeds of 35 miles per hour and was the worst to ever strike the state. 116 people were killed by this tornado, all but three on a four-mile stretch of Coldwater Road.
Though the Omaha area has not had a major tornado since 1975, we all know they can strike at any time. Stay safe during the storm season and remember to call Hometown Roofing if a storm damages your home.