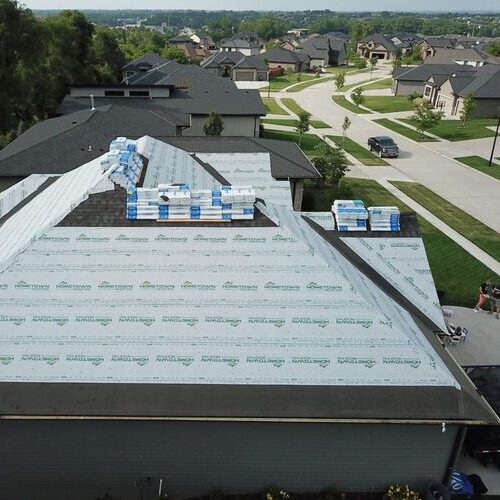 Roof Installation in Omaha, NE
Once your roof is at the end of its life or when repairs would be more expensive than getting a new roof, it is likely time for a roof installation. At HOMETOWN ROOFING, we are a company that can provide you with this service and we also deliver the best results around. Let us talk to you about residential roof installation in Omaha, NE, so you can be sure that you are working with the best residential roofer in your area.
Not only do we work in an expedient manner on each of our jobs, but there are also many options when it comes to getting the new roof you want. Contact us at 402-896-3639 when you want to discuss the many options available to you.
We Work with Multiple Types
Our roofers have many years of experience and are able to install a variety of different types of roofing at your home. For instance, we can install asphalt shingles, concrete tiles, clay tiles, or slate. Not only will we provide you with these roofing varieties at your house, but we are also able to talk to you about what type would work best for you. When you are choosing a new roof, you will want it to look good on your home, since you have to see it every day, but you would probably also like it to be strong and not cause you many problems in terms of maintenance. Remember that you can always ask us for details on any type of roofing we work with, and we will answer your questions.
Repairs are Also Possible
Another great aspect of working with a team like ours is that we can be there for you for the duration of the life of your roof. This means if you ever have a leak, need repairs, or experience a sudden roofing emergency, you can lean on us to decipher the problem and repair it quickly. Essentially, we could be your go-to roofer as long as you trust in us. You won't have to find another team when there is something wrong or you need to have a part of your roof fixed. This should save you time and money.
Roof Inspections
We can also lend a hand before and after a roof installation is by providing a roof inspection on your roof. This allows for you to know what the condition of your roof  is, so you know if there are any problems present. This is something that you should consider getting before you have a new roof installed, to ensure that you are in need of a new roof. Then, once you have a new roof on your home, you should still have it inspected regularly, so you are able to get many years out of it. Small problems can be repaired quickly and before they cause major leaks or damages. You may be able to sleep better when you know that your roof is properly protecting your home.
Our Team is Ready to Serve You
Having a new roof installed on your home is a big step and a roof is something that you will need to count on for a number of years. This is exactly why you should trust us to do the residential roof installation in Omaha, NE. Our professionals have experience with a number of different roofing types, and we take pride with every one of our tasks. You won't have to be concerned that we aren't doing a good job.
Also, we are a team that can be there for you through the life of your roof. You can call on us for repairs, when leaks pop up, once you require inspections, or even if you have any questions about your roof that you need answered. Talk to us today at 402-896-3639 and we will set up a meeting to discuss options for a new roof installation at your house.