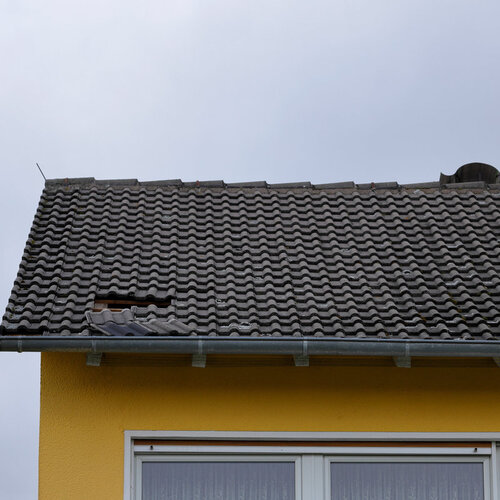 Storm Damage Help Near You
Storm damage can happen to any roof, so if you have your own home or business, you may need to find a quality roofer that will be able to assist you if this is something that happens to you. At HOMETOWN ROOFING, we are both a residential and commercial roofing company that is able to provide roof storm damage repair in Omaha, NE.
Storms can possibly damage roofs for a number of different reasons, and you never know when these things can affect you. You may incur damage due to wind, hail, or even a large amount of rain. Our experts can assist you with all types of damage, no matter the cause, when you work with us. Talk to us at 402-896-3639 once you need advice concerning what to do about storm damage on your roof.
Roof Inspections
Anytime you reach out to us concerning storm damage to your roof, we will arrive as soon as possible and check out your damage. The first thing we will generally do is cover any holes in your roof, so they can't continue to leak into your home. After that, and when it is safe to do so, we can offer a roof inspection. This will allow everyone to have an up-to-date assessment of the condition of the roof, which can also let you know what is damaged, and what is still holding up properly. Getting an inspection can also be beneficial when you need to file a roof insurance claim.
Claims Help
If you do need to file a claim, we are a team that is able to assist with this as well. You may not have experience going through this process yourself, so we can work with your insurance company for you. This can allow the work to get started quicker, especially if you want us to do everything, including the inspection, the estimate, as well as complete the repairs.
Hail Damage
Hailstorms are something that happen randomly, so it can be difficult to prepare for the damage they are capable of. However, when you have a roofing team like ours on your side, we'll always have your back when it comes to getting repairs after your roof is affected by a hailstorm. If you go outside after a storm and notice that there are missing shingles on your roof or you see pieces of shingles broken and all around your lawn, you may want to reach out. Hail can also cause holes or dents in your shingles or roofing, which can lead to vulnerabilities and leaks. This is another reason you should talk to us about an inspection, since you may not be able to see the parts of your roof that were affected the most. You also need to know that we can repair or replace other parts of your home that may be damaged due to hail, including gutters, siding, and skylights. If you have any of these things on your home, you may be happy to know that we will service all of these features without you having to trust another company to help.
We Can Sort Out the Details
You should always work with a team you can trust when it comes to getting the right roof storm damage repair in Omaha, NE. Repairs may be extensive or minor, and you never know what might happen after a storm occurs in your area. A good rule of thumb is to talk to your neighbors after storms, in order to determine what the condition of their roofs are. If they have damage, it is possible that you do too. Even if you haven't noticed any damage or leaks, this doesn't mean that they aren't present.
Something else to keep in mind that you may want to talk to us about is an inspection, regardless of if you think you have storm damage to your roof or not. This can save you time and money. Call on our team at 402-896-3639 to schedule a meeting with us to find out more.